Sustainability goals may be in your plans if your organization is in hospitality, education, finance, manufacturing, or any other industry. From energy mandates, upgrades, and procurement to the installation of electric vehicle charging stations, there are many areas within sustainability where companies are focusing their goals this year. Here are six services that ERC, a Renodis Company, can provide to help your company with sustainability during 2023.
1. ESG Environmental, Social, and Governance Goals
With energy and sustainability becoming more of a concern for companies, this may be a priority for you this year. Some examples of environmental goals for companies can include an effort to use non-toxic or less-toxic substances, the limitation of waste and emissions, reduction of unnecessary packaging, and reusing materials rather than throwing them out or wasting them. In January 2022, CNBC reported that "ESG will remain a top priority for IT next year across industries" and went on to highlight the importance of environmental goals and how companies are handling them. Moreover, our team will strategize and assist with projects to reduce your annual energy consumption to guide your company's work towards a greener future.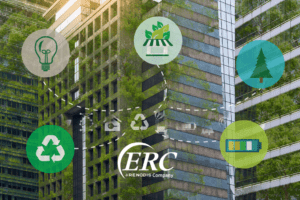 2. Local Energy Mandates
EnergyStar® reporting and energy reduction regulations requirements have been mandated in many cities and states. As the need to meet regulations become a priority, ERC also provides energy reduction and planning services. Several rebates and incentives are available for companies to use alternative energy, electric vehicles, and other strategies to decrease the amount of carbon a facility is emitting into the environment. Our sustainability team helps your company understand these mandates, assists in ensuring compliances are met, and, as a result, determines if any rebates or incentives may be obtained to reduce costs.
3. Energy Upgrades
ERC staff and engineers will work with your team to assess what types of equipment or lighting upgrades are available for your facility. We work with multiple vendors to ensure that your needs are met and that all questions and concerns are answered. Energy upgrades may include:
Energy Management Systems (thermostats, lighting controls)
Lighting upgrades
HVAC upgrades
Lighting controls
Water conservation
Community solar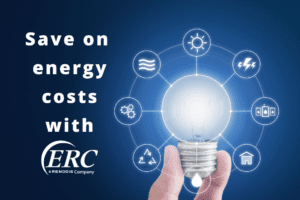 4. EV Charging Stations
With the rise in popularity of electric vehicles in recent years, we are also seeing the demand for electric vehicle charging stations. EV charging stations are pieces of equipment that supply power for electric vehicles. Our sustainability team works closely with multiple electric vehicles charging station vendors. We review how many stations you need, what size, and also what rebates are being offered. As a result, our ERC team presents recommendations based on needs, pricing, and rebates in your area.
5. Energy Procurement
ERC will conduct a competitive bidding process for the client's natural gas and electric commodity needs to ensure that our client is receiving the most beneficial pricing available during the time of the bid. In order to ensure the contracted price is billed accurately, ERC implements the contracts and verify the billings. As an ongoing service to our clients, we take a proactive approach by monitoring the current market trends and making recommendations for continued savings prior to contract expiration.
6. Demand Response
Demand response involves shifting or shedding electricity demand to provide flexibility in wholesale and ancillary power markets, consequently helping to balance the grid. Any business or organization that consumes a considerable amount of energy could participate. As a result, each facility will have a different reduction plan. Participation does require effort; however, financial compensation is certainly worth it. Participating in a demand response program can be profitable for your facility. ERC assists in enrolling in a demand response program for your facility to reduce energy costs accordingly.
In conclusion, we hope you find these six suggestions helpful to your sustainability and energy goals. From energy mandate requirements and energy procurement to EV charging station installations and demand response programs, our team is here to help your company reach its most important sustainability efforts. No matter what industry you are in, energy and sustainability improvements are surely a significant focal point for many organizations this year – don't let yours fall behind!
Learn more about our energy and sustainability services here: https://ericryan.com/sustainability/
Contact ERC today for more information on the sustainability services available for your company.
www.ericryan.com
info@ericryan.com
800-836-6406